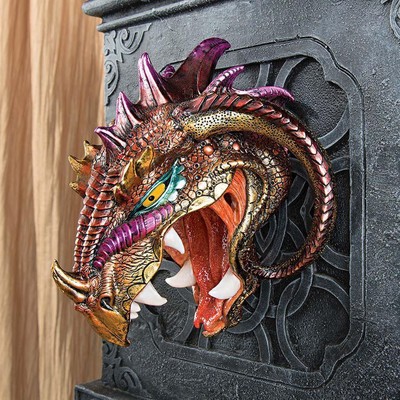 In the aftermath of the Dragon scourge, Althonyr's body was excavated from under the rubble and his head and wings mounted and used to adorn the wall behind the Viceroy's throne. Soon after, representatives from several magical and alchemical guilds arrived to haggle over the great beast's bones, nearly compensating the Viceroy for the fee he had paid to Wilfred and his company of Dwarves.
A few people made any comment on the seeming differences from Althonyr's heart and those in the jars, however.
"Now that mind," Runny quickly announced, "be on account that they be different species. The whole beast bein' a Purple Cavecrawler, and the others be Reds."
"Why yes," the Viceroy's chief alchemist piped in, in his own bid to seem authoritative. "Quite different creatures, I assure you," he said to the assembled gainsayers.
The result, of course, was that the matter was laid to rest by such an "official" declaration.
Later, on the Viceroy's recommendation Wilfred was knighted, as was Runny, being dubbed Sir Runnyreer Roundbottom. The now Lady Plucky, was thrilled by the honour, though it was all seen as a nonsense to Runny himself.
Wilfred was inundated by offers from cities as far afield as Nordland and the Sultanate to come and reenact the epic Battle of the Worms. These performances netted Wilfred and the Dwarves quite lucrative honoraria.
The Dragon Hunter's reputation was now firmly set, and he and his team were summoned by rulers and officials for all manner of mysterious dealings, most of which their distinct talents transformed into profit.
That was until they received a desperate missive from the Sealands about a sea monster plaguing that nation's coasts. That, however, is a tale for another day.
---
Padre